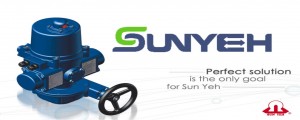 SUN YEH ELECTRICAL IND. CO., LTD. strives to be one of the leading companies in Machinery & Industrial Supplies worldwide. Our company offers excellent Quarter-turn Actuator, ensuring high quality and professional performance.
OM series electric actuators offer a range of 35Nm to 4500Nm torque. The actuator comes standard with NEMA 4X (IP67) environmental rating. All models are ISO 5211 compliant and have a visual position indicator. The manual override can be operated without clutch and brake under our research and development. It already won the new type patent in Taiwan, China and U.S.A.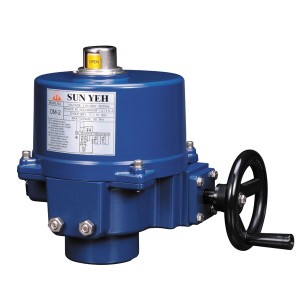 Enclosure :
● IP67、NEMA 4X : Water-proof and dust-proof enclosure.
● Cover material: Plastic cover or aluminum alloy cover.
● Base material : Dry powder coating aluminum alloy.
Working Conditions :
● Ambient temperature:-30℃ ~ +65℃ / -22℉ ~ +149℉
● The humidity:30% ~ 95%
Motor :
● Standard extended duty cycle induction motor. F (Standard) or H (Optional) insulation class for all models.
● Built-in thermal protection prevents motor burning out.
AC motor:125±5℃/257±9℉ 
DC motor:90±5℃/194±9℉
Position Indicator :
● All models have continuous mechanism position indicator on the top of actuator cover.
Duty Cycle :
● OM-1:30%duty cycle (Standard Model)
● OM-1:75%duty cycle (Optional)
Gear Train :
● Gear trains have been already lubricated sufficiently with anti-high temperature lubricant at the factory.