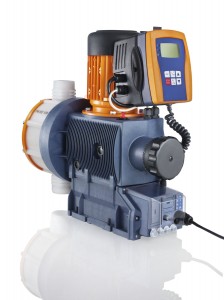 ProMinent offers an unparalleled metering pump product portfolio including all the peripherals that meets even the most specific requirements perfectly.
It was and still is our aim to offer solutions for entire process steps of the Chemical Fluid Handling. Starting with storage, then transfer of liquid chemical to the dosing point, dosing by means of a metering pump and the appropriate measuring, control and sensor equipment, up to the point where the chemical leaves the customer's site in the wastewater.
Even under the harshest conditions, all devices exhibit a constant high performance. And where economy is concerned they are almost unbeatable.
Super_Dose : Range 0.7-23 l/hr @ back pressure 1.5-16 bar
CNPb : Range 0.6-19.9 l/hr @ back pressure 1.5-16 bar
Gamma L : Range 0.59-32 l/hr @ back pressure 20 bar
Gamma X : Range 2.3-45 l/hr @ back pressure 2 – 25 bar
Vario D :  Range 17-120 l/hr @ back pressure 3.5 – 12 bar
Plasma : Range 10-500 l/hr @ back pressure 5 – 15 bar
Meta : Range 78-1,000 l/hr @ back pressure 5 – 10 bar